Flooring for Gyms & Weight Rooms
Our heavy-duty gym and weight room flooring features a rugged, durable design. Proper gym floor mats help protect your weights and flooring from damage when weights are dropped. Rubber flooring also dampens sound and absorbs the vibration of treadmills, cardio equipment and weight lifting machines. These environmentally friendly mats are made from re-vulcanized recycled rubber.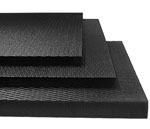 These heavy duty rubber floor mats are durable and strong enough to protect your floors against the heaviest of weight room equipment. These mats also help reduce noice and vibration. The ridged top surface provides increased traction. These mats are available in black and four EPDM speckle colors and thicknesses from 3/8" to 3/4".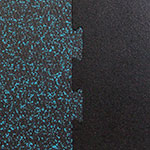 Our interlocking rubber mats offer an unparalleled fit and stability in your floor. These commercial grade mats also offer the same floor protection, and vibration and noise absorption as our standard mats. Available in black and choice of four EPDM speckle colors and thicknesses from 3/8" to 3/4".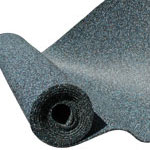 Our roll flooring is often selected for large fitness centers and gym weight rooms. This versitile weight room flooring comes in 4' x 50' rolls. It is available in a choice of 9 different colors and thicknesses from 1/4" to 1/2".