Exercise Room Flooring
Whether its a weight room, general fitness exercise area or aerobics facility, we have the flooring for your application. Rigorous fitness activities are very demanding and taxing on your muscles and joints. Treadall fitness flooring provides the support, shock absorption and durability required for these activities.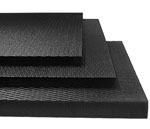 These heavy duty rubber floor mats are durable and strong enough to protect your floors against the the abuse of rigorous exercise routines. These mats also help reduce noice and vibration. The ridged top surface provides increased traction. Available in various colors and 3/8" to 3/4" thicknesses.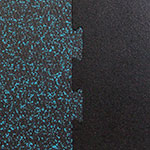 Our interlocking rubber exercise mats provide a virtual one-piece flooring for your fitness area. The mats reduce vibration and noise while providing superior shock absorption. Available in various colors and 3/8" to 3/4" thicknesses.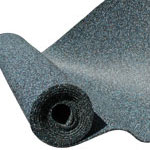 Our rubber roll flooring is popular for large spaces and commercial fitness facilities. It works great for exercise rooms, fitness areas, aerobic rooms and cardio areas. Suitable for use with treadmills, cardio equipment, exercise machines and free weights. Available in various colors and 1/4" to 1/2" thicknesses.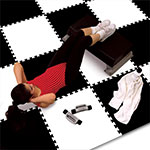 Our EVA foam interlocking exercise mats are ideal for home use and light commercial applications. Suitable for use in areas with light weights and no heavy equipment, these mats are softer than our rubber mats making them great for warm-up rooms or floor activities. They come in a wide range of colors and are a full 5/8" thick.