Aerobic Flooring Surfaces
The two most important things to help prevent aerobic injuries are proper footwear and flooring. Our quality aerobic flooring offers superior shock absorption and an esthetically pleasing look.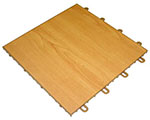 Our high quality tile aerobic flooring offers the best in shock absorption, durability and style. These tiles are perfect for commercial aerobic facilities. The hidden interlock design and special surface graphics makes for an attractive floor finish.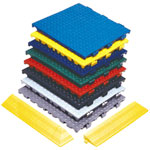 This solid, yet flexible vinyl aerobic floor tile is perfect for commercial or residential use. These cushion tiles offer excellent durability and functionality at an affordable price.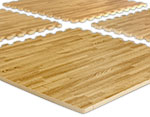 Our EVA foam aerobic mats offer excellent shock absorption and comfort. These interlocking mats are simple to install and are ideal for residential applications. The wood grain top finish keeps your exercise room looking great.